Evenemang: detaljer
From 16 Januari 2014 to 18 Januari 2014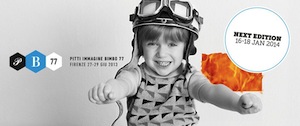 Pitti Immagine Bimbo 77
From January 16 to 18, 2014 at the Fortezza da Basso of Florence the Pitti Immagine Bimbo will be held. This international show of childrenswear is a fashion week rich with events and fashion shows, introducing the new and most important trends of children's fashion and lifestyle.

The 510 collections, of which 200 foreign ones, of this edition will be displayed following a course of 8 exhibits: Pitti Bimbo, Sport Generation, New View, Kids' Design, SuperStreet, EcoEthic, Apartment, Pop Up Stores, ranging from cutting-edge styles to urban couture, from sportswear to design.


Info
www.pittimmagine.com
Nozio © 2013
Bakåt!